To get first look at the next litter/s of Banksia Park Puppies Cavadors you need to be on our priority list. First you contact us to register your interest and place a *refundable $100 deposit. After this you will be put on our priority list for Banksia Park Puppies Cavadors. The families on this list receive access to available litters before they are released to the general public.
Contact us
for more information on how this works or to
join the Banksia Park Puppies Priority List
.
Ensure you are buying ethically. See
here
for our suggestions on what you should be considering before purchasing a Cavador, and check the RSPCA's
Smart Puppy and Dog Buyer's Guide
; it is an excellent resource detailing the questions you should be asking yourself and your breeder. The RSPCA also has a
checklist
which we suggest that you go through to ensure you have thought about everything; from being prepared, the type of dog for you, caring for your puppy, and ensuring you get your puppy or dog from a reputable breeder or shelter.
Cavadors at a Glance
Labrador cross Cavalier King Charles Spaniel
Shedding – Yes
Exercise required – Medium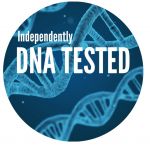 We DNA test the parents of our Cavadors as part of our diligent surveillance to ensure we keep the incidence of problems in our Cavador puppies to an absolute minimum. See
here
for more information.
​