How To Not Get Scammed
Only buy from registered breeders! Not only are you supporting ethical breeding but you'll stop yourself being scammed. Look for any of these numbers and double check them with the registered website to make sure they match phone numbers or contacts:
The Pet Exchange Register is a Victorian based Government Initiative - from July 1 2019 all puppy advertised for sale/to be given away in Victoria needs a source number advertised.
Check the number here: https://per.animalwelfare.vic.gov.au/

If the person selling is not a business you wont be able to see the Domestic Animal Business Registration Number, you will only be able to see their local council. The only real way to check them out is to look at where they are selling the dog from and see if it is the same council as where they are registered.

Only buy from a DAB; you can contact the shire and request to know if they are who they say they are. Most councils audit the breeders yearly thoroughly and are constantly in touch with them.

This is an example of what you would see if you look up our Source Number - BR100305 (downloaded at 11:10am 18 June 2020)


AAPDB Full Members need to undergo a yearly Registered Veterinarian led 'Animal Welfare Focused Quality Assurance Audit', submitting photos and all vet feedback and comments regarding their breeding and after-sales care.

The great thing about this is that you can search for a name or number on the website and check the photos and information matches up (including the breeder's website) - check the number here: https://www.aapdb.com.au/full-member-listing/

This is an example of what you would see if you look up our Member Number - 21 (downloaded at 11:34am 18 June 2020)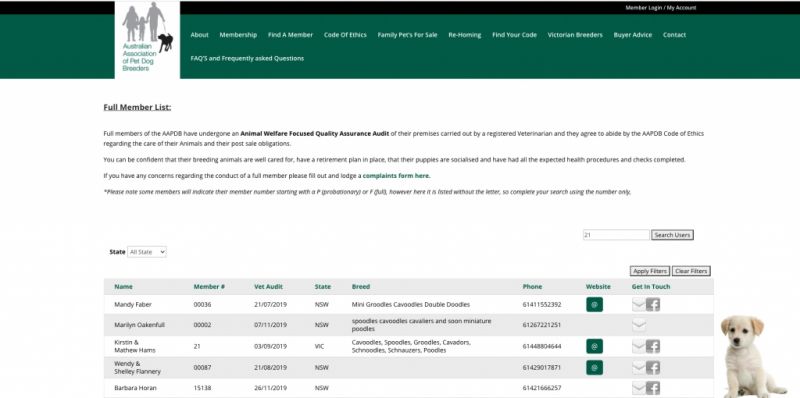 Most ethical breeders have a waiting list -, particularly after Covid19. Don't be in a rush - think about your decision and get on a waiting list early. If a website has available puppies, consider whether you need to ask more questions before you hand over any money. Get updated photos or check more details. Our Wait List details are here - https://www.banksiaparkpuppies.com.au/reserving-a-puppy/
There aren't very many available puppies around at the moment, so remember - if it seems to be too good to be true (too cheap/lots of available puppies)... it probably is.