Puppy Pricing
What is included with your puppy?
Our Banksia Park Puppies are vaccinated (including the kennel cough vaccine), wormed, micro-chipped, and flea-treated.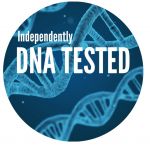 We DNA test the parents of our puppies as part of our diligent surveillance to ensure we keep the incidence of problems in our puppies to an absolute minimum. See
here
for more information.
When you pick up your puppy you will receive:
Puppy information:
a detailed and informative puppy pack,
a personalised puppy record book,
Extensive Health Guarantees:
a comprehensive 28 day health guarantee, and
a 3 year money back genetic health guarantee.
Puppy Essentials:
A 2kg bag of Hills Science Diet puppy food
Worming tablets
20% discount storewide in Pines Puppies on the day you pick up your puppy
After you take your puppy home:
An after-sale vet health check with discounted de-sexing and second vaccination at Boronia Veterinary Clinic
Ongoing discounts in Pines Puppies for the entire life of your puppy
A phone call from Ian the Dog Trainer to make sure your puppy is settling into your home and you are both comfortable
Puppy Prices
Below is a table of puppy prices, however puppies can be priced individually so please see the individual puppy for price confirmation
.
| | |
| --- | --- |
| Puppy | Price |
| Cavador | $3295 |
| Cavalier King Charles Spaniel | $2495 |
| Cavoodle | $3995 |
| Groodle | $3295 |
| Moodle | $2995 |
| Schnoodle | $2995 |
| Spoodle | $3495 |
How do I buy a Banksia Park Puppy?
Our puppies are thoroughly vet checked, microchipped, vaccinated, and wormed at 6 weeks of age. These puppies will feature on our
Priority List
on Saturday morning. Any puppies that are not reserved through the
Priority List
will appear on our website on Sunday for public viewing.
Learn more
The Priority List